Aging your own rum is a great idea!
We support you both in acquiring the elements to do so, and through our advice.
First of all you need a barrel
We offer you those of Allary, made in France, in French oak.
Allary has been a cooper since 1953. Located in Charente-Maritime, the company supplies cognac and wine producers. Today, it exports all over the world.
The oak used comes from the forests of the ONF (Office National des Forêts). It is of the sessile or pedunculate type (mainly sessile).
Allary produces barrels for many purposes: fermentation tanks, maturation tanks, casks, and finally ageing barrels for spirits.
But above all, and this is what interests us, it has made a speciality of making small barrels.
The small casks are made entirely by hand by the Allary coopers. The small casks are as complex and almost as time-consuming to make as the large ones, which explains why, for example, a small 20-litre cask is "only" 50% more expensive than a 1-litre micro cask.
They are heated on an open brazier (as in the photo below). This corresponds to an average heating.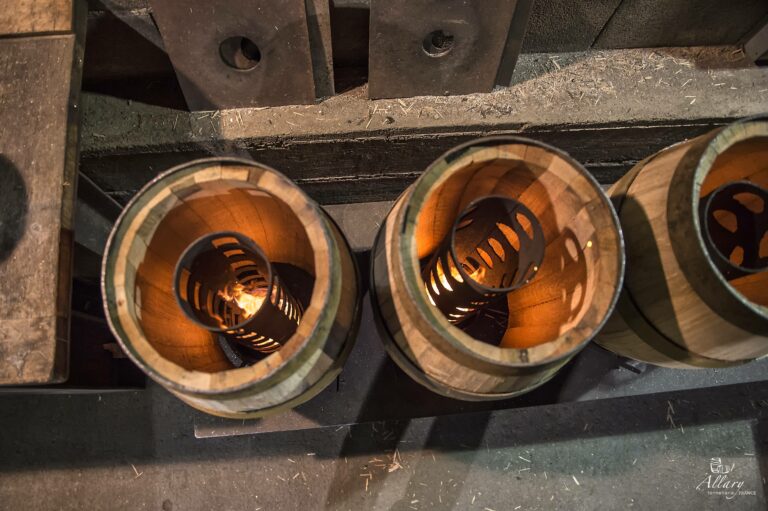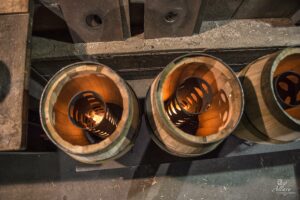 Heating of small drums
Please note: the barrels we sell are PARAFFIN-FREE. Indeed, kerosene strongly slows down the aging of spirits.
How to order a small Allary barrel on our website?
Choosing the size of your barrel
New drums: 1 litre, 2 litres, 3 litres, 5 litres, 10 litres, 15 litres, 20 litres (see list of all drums and options)
New: we also offer a 5 litre cask that has already contained cognac for 3 months.
Each barrel comes with a wooden stand (included in the price).
Of course, these drums are delivered empty.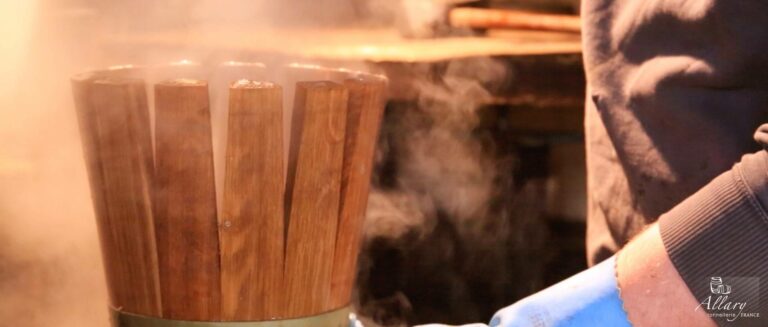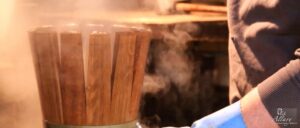 Bending
You can then add the following options
Wooden tap: offered
Stainless steel tap : 17 euros TTC
Engraving of a personalised word (short): 20 euros TTC (text to be sent by e-mail to service.client@rhumattitude.com specifying the desired font: Times New Roman, Lucida calligraphy or Script MT Bold)
Adding a logo: 30 euros TTC (laser engraving: your logo will be engraved on the front of the barrel, and Allary's on the back of the barrel, then send us an image of your logo by e-mail to service.client@rhumattitude.com)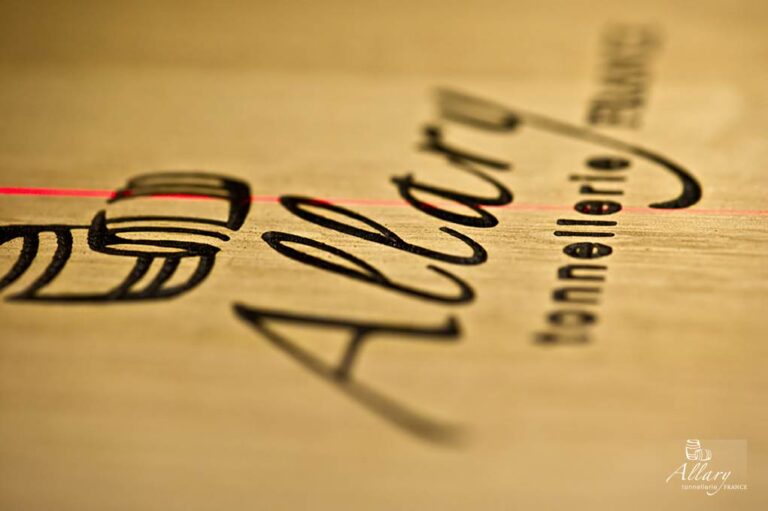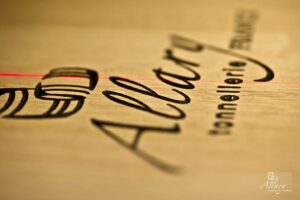 Marking a logo
Transport
The barrels leave directly from the cooper's warehouse (not from our warehouse in Le Mans)
The price of transporting the barrel is included in the price.
1) if you only take one or more barrels, you will not have to pay any additional shipping costs.
In order to be able to offer the lowest price and because it would force us to make a specific package for this, there is no sample or gift offered as for the other products on our site.
2) if you take other items (rum or other products from our site), there will be shipping costs (carrier to be chosen when you finalize your order), unless the amount of these other items exceeds 140 euros and you want to be delivered in France or in the following countries Germany, Belgium, Luxembourg, Netherlands.
Atthe moment we only deliver to France (included in the price) and to the following countries (there is a surcharge for this option): Belgium, Luxembourg, Germany, Netherlands, Italy, Spain, Portugal, Ireland or Austria.
We deliver to your home only (or to your company, but not to a relay point).
When you complete your order, we use the address you provide in the "Billing Address" section.
If you wish to be delivered to another address than this one, please write to us before D+1 9:00 am at service.client@rhumattitude.com.
Deadlines
Your order of barrels will be dispatched on D+1 working day, i.e. the day after the order is placed (except for orders placed on a Friday: the package will be dispatched on Monday).
Delivery times are around 3 working days for Metropolitan France, and 5 working days for other countries.
Guarantee
The drums are guaranteed for 2 years
Special requests and clarifications

If you would like to make any comments on the placement of your custom logo (on the back instead of the front, or if you do not want the Allary logo to appear on the barrel), or on the application of a particular logo, text or tap on a particular barrel (if you have taken several barrels and there are several possible combinations), then please write to us no later than 9:00 am the day after you place your order at service.client@rhumattitude.com
Start your ageing experience
What do I do when I receive my drum?
When you receive your barrel, fill it with cold water for 24 hours (not more) so that the wood swells.
If you notice a leak, leave the water on for another 24 hours. Then empty your barrel through the bung.
Which rum to use?
We recommend high proof rum, as the alcohol content will decrease with age (the angels' share...).
Agricultural rum between 55° and 65° is obviously perfect.
Long-fermented white rums, very aromatic, can be used either pure for those addicted to high esters, or as an enhancer when blended with agricultural rum, for example: Hampden Rum Fire, Rum Bar, Rum Nation white pot still, Wray & Nephew, Monymusk or Le grand arôme de la baie du Galion
Some guidelines for ageing your rum
Do not fill to the brim, leave a margin of about 10%. It is possible for the volume to increase with temperature variations.
At the first filling, the new wood absorbs about 10% of the liquid. You can then top up. With an ex-cognac cask you will of course not have this phenomenon.
Place your barrel in a place out of the sun and away from draughts (which would increase evaporation).
Taste very regularly! Especially during the first pass, which will be more woody. The smaller the barrel, the faster the process, as the contact with the wood/litre is higher.
If you can use the tap to taste, once the desired result has been achieved, it is better to empty everything at once through the bung, with a hose as for a drain. Otherwise the rum left at the bottom will quickly become too woody.